Buying a Rolex Explorer: why dare the occasion ?
Rolex watches are those that best embody the expertise of the Swiss watch industry. They seduce by their elegance, but also by their reliability. The Explorer is one of the models that has proven itself under extreme conditions.
Here is all you need to know to buy this watch on the second hand market.
The Rolex Explorer watch: presentation of the model
The Rolex Explorer is called the adventurers' watch. This name was not given randomly. For the record, New Zealand mountaineer Sir Edmund Hillary and Nepalese Sherpa Tenzing Norgay were the first to reach the summit of Mount Everest on May 29, 1953.
The expedition was equipped by Rolex with the Explorer watch.
However, it was not the first prototype. Some of them were already developed in 1952. They were later modified, including the integration of Arabic numerals at 3, 6 and 9 o'clock. This type of dial became the hallmark of the Explorer, a name that was officially launched in 1953.
In the years that followed, Rolex continued to improve this model. The period 1963 to 1989 was marked by the production of the reference 1016, characterized by a black dial for easy reading by day or night. In 1971, the first Explorer II was unveiled.
This model is characterized by an additional 24-hour hand in orange color and a 24-hour graduated bezel. These elements make it possible to differentiate the hours of the day from those of the night.
The Explorer and Explorer II belong to the Oyster Perpetual family. These watches have an Oyster bracelet with an Oysterlock safety clasp. The Explorer is available in Oystersteel stainless steel as well as in yellow gold. For its part, the Explorer II is exclusively made of Oystersteel. Both are known for their reliability.
For many years, they have been tested in real conditions by equipping all kinds of expeditions (exploration of polar regions, mountaineering, caving, etc.).).
What budget for a new ?
In recent years, Rolex Explorers have enjoyed a resurgence in popularity. This phenomenon has had an impact on their price. To buy a new Rolex Explorer, it is necessary today to plan an average of 7,200 euros for the reference 214270 of 39 mm launched in 2010. As a comparison, its price when new was 4 500 euros 5 years ago.
For their part, the references 114270 and 14270 of 36 mm are currently sold between 7 300 and 7 500 euros if they are new models. About 5 years ago, their price was 3,000 euros cheaper.
In addition, it is necessary to count on average 9 000 euros for buy a Rolex Explorer II new in the case of the 42 mm reference 216570. On the other hand, the reference 16570 of 40 mm costs about 8 900 euros when new.
Where to buy a Rolex Explorer d'second hand ?
It is possible to buy Rolex Explorer watches from'online second hand. Buying second hand has several advantages. First of all, it avoids the long waiting lists typical of new Rolex products.
Moreover, it gives the opportunity to acquire prestigious watches at a lower price. For example, a Rolex Explorer II reference 16570 already worn is usually displayed at 6 900 euros.
However, it is important to note that buying second hand is not only for people who want to buy a more affordable Rolex. The most affluent luxury watch lovers are also interested in this solution. Indeed, Rolex allows you to find watches that are no longer in production and have therefore become collector's items. To buy an original Explorer (reference 6610) in good condition, you need to count about 18 700 euros. For its part, the reference 1016 is sold between 18 000 and 19 600 euros.
As for the Rolex Explorer Steve McQueen (reference 1655), its price is around 21 200 euros.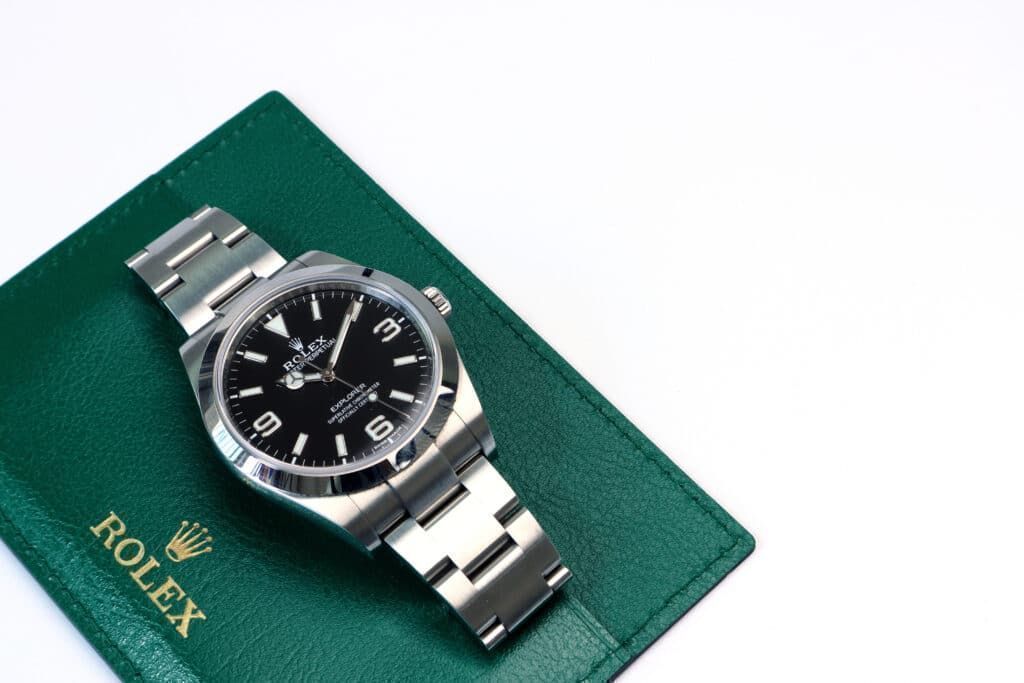 It is important to take some precautions when buying a Rolexto buy a used Rolex Explorer. In practical terms, you should not limit yourself to checking the condition of the watch. It is also essential to pay particular attention to its authenticity knowing that Rolex is the most counterfeited brand in the world.
It is best to avoid any watch for which the seller is not able to provide a certificate of authenticity. It is also advisable to seek the expertise of a dealer or an independent jeweler before buying a used Rolex to complement your style.